Art is the instant when someone is emotionally moved by something that you have created. – Lorne Resnick
About Henri Leduc
I'm a Belgian based in Ecuador since 1992.

My passion for photography
comes from my love of the outdoors, nature, the mountains, the sea. I want to encapsulate some magical moments and share some of the most extraordinary places on earth with all those who are sensitive to the beauty of this wonderful nature. I try to capture the poetry, the drama or the force of nature in the colors, in the details, in the shapes. I want to be a photographer who shares beauty and emotions.
I fell in love with photography a long time ago.
I began photography seriously in the years 1985-86 shooting films and taking slides during my trips. I was at that time a scientist, a biochemist who worked in cancer research at the International Institute for Molecular and Cellular Pathology (ICP) of the Belgian Nobel Prize winner Christian De Dude. But I moved away to start an adventurous life focused on mountain and arctic expeditions. One of my goals at that time was to reach the North Pole solo.
At the age of 32, in 1987, I definitively left my work
as a researcher to cross the arctic island of Spitsbergen.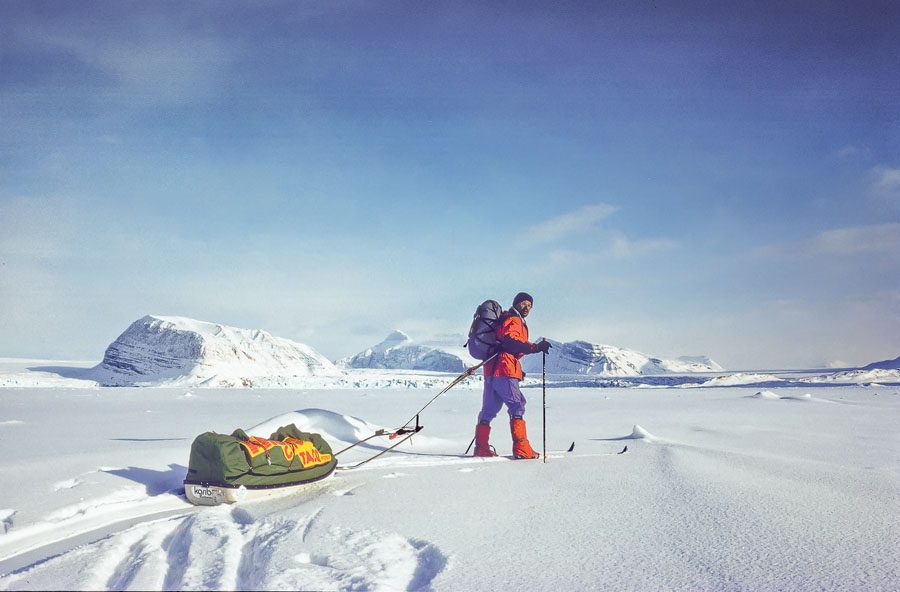 Thirty-two days alone, without assistance, in complete autonomy and during the arctic winter. A great premiere at that time.
In the years that follow, I travel the world, from the Namibian desert to the 6,000 meters of the Andes through the wilderness of Lapland and Alaska.
And it was those experiences that got me thinking about photography in the first place
because I was out going to amazing places that I really enjoyed and had wonderful adventures in. I wanted to document my expeditions and of course all those beautiful places and share that with other people.
I was then shooting film and slides.
My photographs were greatly appreciated by many people. With more and more people saying to me "you have a good eye" it led me to submit my slides to a stock photo agency and yes, they accepted them. Encouraged by this fact, I played the big game and introduced myself to an airline as a professional photographer with my so-called portfolio. Surprisingly they also immediately accepted and ordered photos from Ecuador and Bolivia. The purpose at that time was only to allow me to continue my expeditions, but that's when I said to myself "Hmm, I think I can become a good photographer" and that I started to really dedicate myself a little more into photography.
This explains why most of my photographs are about landscapes, outdoors, adventure or exploration.
I shot slides in the film days, but I was forced to take a break for many years (at least 10), because my «adventure» camera, a Nikon FM2, had fallen into the water in the Amazon with all my other gear and at that time, and for many years, I had no money to buy other equipment. Once digital came on the scene in the early 2000s I adopted it right away. Having the ability to edit my own photos was still more exciting. In the years since this turning point, I was able to improve my photography skills tremendously. I'm a self-taught photographer and learned post-processing my images with Lightroom and Photoshop also in the same way. I have on my computer nearly 900 Gb of video courses, books, articles and magazines… and I still continue my learning and improvement process.
Available for freelance photography work